I have the following print for sale, right now in the Art by B Rickman store: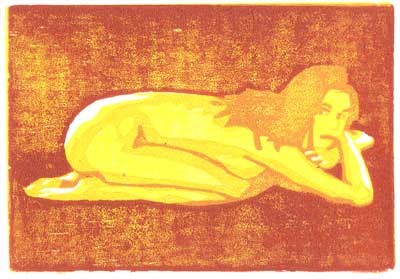 This print was completed in 2002. This is a reduction woodcut in four colors, 8″ x 5.5″ on Stonehenge paper. There are 12 prints in the edition. and I have only 3 copies left.
Rogue Star by Frederik Pohl and Jack Williamson, the third part of the Starchild Trilogy.
The Giver by Lois Lowry, winner of the 1994 Newbery Medal. And then I read Gathering Blue by Lowry as well.
That's it for February. The rest of my time was spent feeding and taking care of the new daughter. And playing Civilization IV.